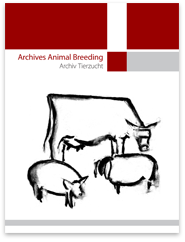 Managing editor: Gunther Viereck
Chief editors: Antke-Elsabe Freifrau von Tiele-Winckler, Steffen Maak, Manfred Mielenz, Christian Nawroth, Henry Reyer & Joachim Weitzel
Archives Animal Breeding is an open-access journal publishing original research papers and reviews by international researchers on scientific progress in farm-animal biology.



10 Aug 2022
Assessment of the association of the MOGAT1 and MOGAT3 gene with growth traits in different growth stages in Holstein calves
Arch. Anim. Breed., 65, 301–308,
2022







Notice on current restrictions
To show our support for Ukraine and in accordance with current European sanctions, we have introduced a range of measures relevant to our open-access publications process.
All fees for papers from authors (first, corresponding, or contact authors) affiliated to Ukrainian institutions are automatically waived, regardless of if these papers are co-authored by scientists affiliated to Russian and/or Belarusian institutions. The only exception to the waiver for Ukrainian authors will be if the corresponding or contact authors are from a Russian and/or Belarusian institution, in that case the APCs are not waived.
Due to restrictions for authors from Russian and Belarusian institutions that are necessary to comply with European sanctions, we recommend any authors from institutions in these countries to contact us on editorial@copernicus.org for more information.